Uncompromising quality, naturally
Only ZIRCON gives you the rich, rustic, antique and luxurious appearance that you get with natural wood because it IS natural wood.
Each ZIRCON species of wood undergoes a different carefully planned heat and steam treatment cycle in order to enhance only its best characteristics, whilst reducing unwanted attributes.
Unlike conventional heat treatment processes for natural timber, we heat our carefully selected wood from 190ºC to 250ºC whilst adding steam to the process, so that the structure of the wood undergoes permanent alterations at the molecular level to yield a stronger, more weather resistant wood.
100% pure and natural wood
All the wood that is put through our heat treatment process is carefully sourced and selected since any defect in the wood would be amplified. This painstaking care and attention to detail in sorting and screening on our part is one reason why architects who care about quality consistently seek us out.
Green: Ethically Sourced,
Sustainably Treated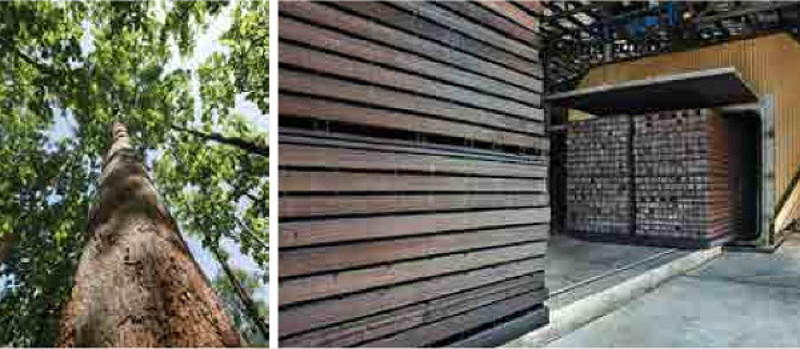 Only ethically sourced woods of the highest quality are put through Perswood's specially designed heat treatment processes. Furthermore, no harmful chemicals or resins are used and this means there are no detrimental effects on the environment.
What you get is natural timber with increased dimensional stability, durability and lifespan as well as enhanced aesthetics. ZIRCON also complies with strict European standards BS EN 350-1:
– D1 for marine (salt water) environments
– D2 for fresh water (lakes, ponds and pools)
– D3 for non-submerged outdoor use
Specific Benefits of Using Zircon
Stability
ZIRCON woods are carefully selected and treated for increased surface hardness and resistance to warping. Its decreased moisture content and propensity to hydro-absorption means that outdoor applications using ZIRCON are able to withstand the harsh elements of weather over a longer period of time with less deformity.
Durability
ZIRCON's unique treatment method also results in a longer lifespan. The reduction in moisture content and resulting modification to the cellulose of the wood increases resistance to rot and fungi whilst minimising shrinkage and swelling when ZIRCON is installed, as well as throughout its lifetime.
Aesthetics
Along with an authenticity and a weightiness which cannot be replicated with composite or synthetic wood, ZIRCON amplifies all the natural and beautiful characteristics of wood, including a richer, darker, more consistent colour. Additionally, our careful sorting and screening process, ensures a beautifully crafted finish to architectural features, cladding and facades. ZIRCON timber can also be stained to achieve different shades, and oiled for extra protection.
All these make ZIRCON perfect for both indoor as well as outdoor applications.